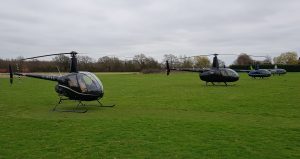 Here is a quick update of some of the recent happenings at Advance Helicopters.
We've been rattling through various student successes recently including:
1st Solo Flights – Rob and Christian
Cross Country Qualifying Flights – Sara and Alex
Type Rating Tests Passed – Adrian, Tony and Lulu
PPL Tests Passed – Piers, Will, Manuel, Tony
CPL Tests Passed – James and Ed
Congratulations to all our students on passing these great milestones.
We also had a fantastic flyout with four helicopters (see picture above) to West Kent Shooting School. They have a great location to land and provided us with some excellent facilities for a really fun day of clay pigeon shooting. A great day was had by all – just don't ask who can first and who came last!?!
If you'd like to discuss any of our training or the social side of flying helicopters then feel free to drop in for a chat, or for more details contact us and see how we can help you enjoy life to the full.